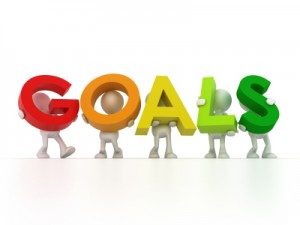 Share this...

0

0
0

0

0
It's no secret I'm no fan of New Year's Resolutions. Nonetheless, resolutions are a tradition in several areas of the world, especially in the U. S. They are supposed to be a firm decision to do something or make some change we didn't get to in the previous year. Resolutions usually start strong and fizzle out fast. Before the summer they are long forgotten and we are back to the same ole same. Instead of resolutions, begin building the ongoing positive habit of goal setting. Goal setting is defined as identifying something you want to accomplish and establishing a realistic, actionable, measurable plans to do it. This is done by setting reasonable timeframes to do so. The key is to devise a detailed, specific plan to achieve the desired result(s). The difference between resolutions and goal setting is making a list versus making a plan.
No worries if you find goal setting to be difficult or ambiguously confusing. Here are some guidelines to help:
Assess your commitment to change. It takes more than willpower to make a change. It requires motivation, thinking through the plan and ways to navigate possible challenges that may arise. It also entails creating Specific Measurable Attainable Relevant and Time-bound (SMART) goals. SMART was created by George Doran, Arthur Miller, and James Cunningham in 1981 as a way to transform ambiguous goals into an easy to execute plan.
We don't usually make changes in a straight and easy path. Instead, we stop and start and exit and re-enter through different change cycles. Prochaska and DiClemente's Transtheoretical Model also known as Stages of Change (1983) was originally used to better understand addictions (smoking, alcohol, overeating, etc.) but is more widely applied to all sorts of behavioral changes. See the diagram below to determine what stage you are in.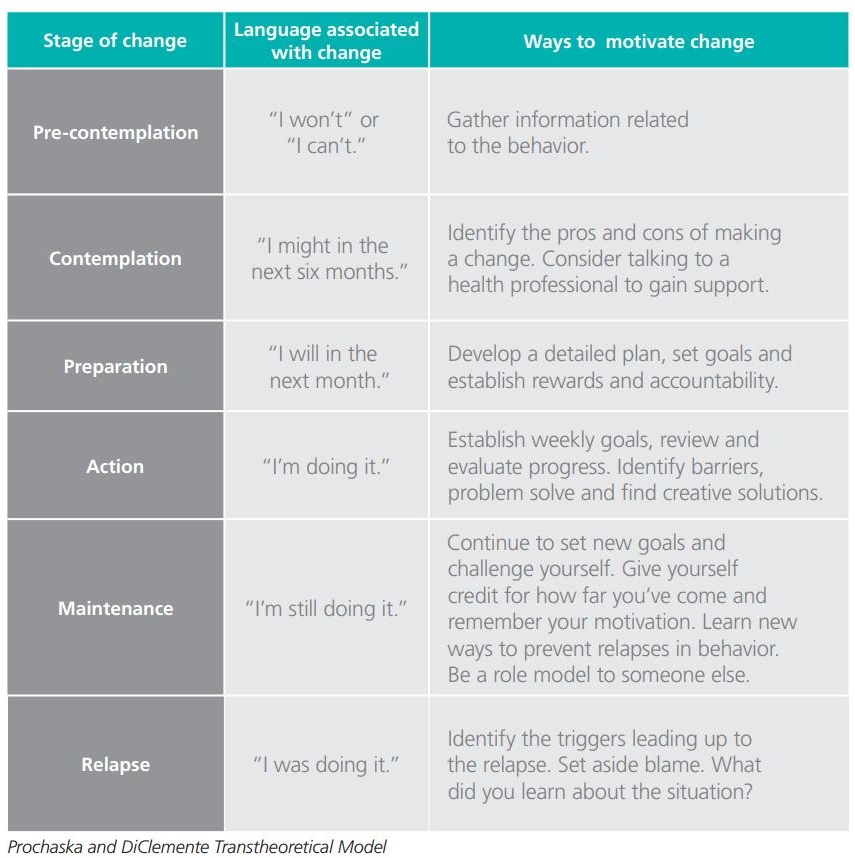 The termination stage and not a relapse stage is actually the fifth or last stage in the change model but was not a part of the original model. While the relapse stage depicted above is not a stage of Prochaska and DiClemente's Stage of Change it is an important part of successfully making a change. Typically when we think of relapse we think of addiction or suffering. However, it is also applicable to non-substance or illness related notions. In this manner relapse simply means to return to old habits, a less active or worse state after having made positive strides. Many of us find ourselves in this predicament of returning to old habits. Therefore, it is important to be aware that this may happen, to be prepared to manage it effectively and get back on track as soon as possible.
Before exploring goals and starting a plan assess your readiness to make a change and determine what stage of change you are in. If you are in the pre-contemplation or contemplation stage, it may not be the right time to try and make a change. If you are in the relapse stage, please do not beat yourself up. Know that this phase will not last forever. Learn from it and grow so you are better equipped to resume your efforts when you re-enter the action stage. Once you are ready to go, in the preparation or action stage, contract with yourself for success.
Clear out the old and make room for the new. Reflect on what you've accomplished thus far and forgive yourself and let go of regret for what didn't come to pass. While working on clearing the clutter from your mind, it's not a bad idea to do the same with your home and workspace. If you are anything like me, always collecting donations and such to give to causes and organizations, then you may need to declutter your car too.
a. Clear your mind first. Start first in the mind and the behaviors will usually follow.
b. Clean up your body. Do a detox or cleanse. We at DrCCJ.com do a reset near the beginning of every year. Consider joining us.
c. Clean up your environment. This includes cleaning your home, office, and removing toxic people from your life.
Visualize what you want. The mind and body are always communicating. The mind is powerful and can be a big benefit or be our biggest enemy. Visualization and mental workouts stimulate many of the same neural networks that connect the brain's intentions to the body. So, take some time to properly train your thoughts before you plan to begin setting your goals to purposefully and intentionally imagine your goals coming to fruition. See it happening. Envision each step it takes to get to it. Make your visualization in the present rather than in the future and make sure you are present in it. Activate all of your senses as you feel the emotions of it. Keep your visualization positive and develop a strong faith in the higher power to help you to resist hyper-focusing, to help you let go and to help you trust it will happen in time. Set aside 10 – 30 minutes. Pick a quiet spot and focus on your goal(s). Do this for several days before beginning and as needed as you begin to work toward your goal(s). I pray for guidance to make sure my goal(s) align with God's plan for me. So this phase sometimes takes more than several days. Visualization can also be applied to day-to-day experiences as you work to reach your goal(s). Doing so helps to improve motivation, maintain positivity and build resilience.
Write down your specific goals. Write out the ideas that came about in your visualization. What was the overall goal(s)? What are the steps you imagined to get there? How much will it cost? How much time do you need to commit? Is it a personal goal (i.e., workout more)? Or a career goal (i.e., go back to school)? Feel free to use this weekly plan sheet.
Want to conquer more than one goal. Write them out separately with their own separate steps and smaller achievable goals. Feel free to write things out in a narrative or story form or as a list. Do whatever works for you but just write it down. It doesn't have to be perfect and you can always revise it as you go along. I recommend working on one goal at a time. Prioritize the most important goal and give it the most focus while giving less attention to the other(s) for now.
Set a start date and a completion deadline. Make sure the deadline is realistic to set yourself up for success. Starting too soon before you are really ready and setting a deadline that is too rigid can lead to feelings of failure and eventually abandoning the completion of the goal(s) altogether. Better to give yourself more time and finish earlier than you thought then to set it to tight and fall behind or feel that you cannot finish it. Perhaps this SMART goal worksheet will be of some help in organizing your goal(s).
Make a deliberate, specific plan. Now, what steps do you need to take to reach your goal(s)? On a sheet of paper or on an electronic document write your goal(s) and write down steps you need to accomplish the goal(s). Break these into small attainable steps with realistic deadlines. This is made easier when you set aside time before the start of each week to write out specific things you want to accomplish within the following week that will move you closer to the goal.
Keep it visible. It's a good idea to put your goals with its steps and deadlines in a place where you can see it often. Seeing the goals and steps you have to take will keep you motivated and consistent to continue to work toward it. For me, it's a little spiral notebook I keep with me nearly all of the time. If a little notepad does not work for you, you can keep it on a bulletin board, on sticky note paper attached to your mirror, or on a calendar. Another idea is to just write it on a piece of paper or the weekly plan sheet and put it on the refrigerator. Look at it weekly or better yet daily.
Have an accountability partner. Share your intentions of your goal(s) with someone close to you. They can hold you accountable, check on you to make sure you keep moving forward. They often offer support and encouragement too. You may find our Health Community to be a supportive, encouraging group to help hold you accountable. Don't forget to contract with yourself to keep yourself accountable as well.
Reward yourself. As you accomplish steps toward your goal(s), reward yourself with small rewards along the way at the end of each week (ex., relaxation time, read a good book, etc.). When you accomplish the overall goal, I'd think that would be its own reward but if it's not, reward yourself with something bigger (ex., a weekend getaway).
Reflect on the process. Take some time to think about the pros and cons of achieving your goal(s), learning what you did well and what you can improve upon. Ask yourself the following:
What did I do well?
What did I learn from the process?
What can I improve upon?
Goal setting and goal achievement are not perfect processes. However, with mindful attention given to your goals and actively taking steps toward your goals, you will get there!
Healthy Brain. Healthy Body. Happy Life.
Dr. J!