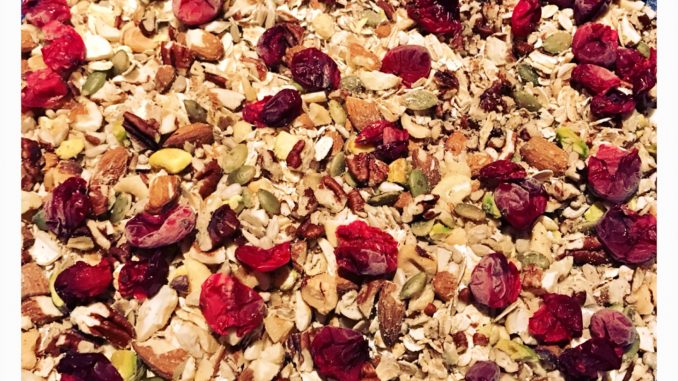 Share this...

0

0
0

0

0
While I do not eat grains much, from time to time I enjoy some, particularly homemade granola.  Store bought granola is full of sugar and sometimes other unnecessary ingredients. Homemade granola is inexpensive, better tasting and better for us than the store-bought stuff.  Granola purports health benefits such as fiber, vitamins, and minerals including iron, magnesium, phosphorus, zinc, copper, manganese and selenium. It also has some healthy fat and protein. You can make a ton of granola to eat for a couple of weeks or share some with loved ones.  Instead of buying granola try making your own. It is so easy to make you will wonder why you haven't done so already. Here a simple recipe to make and enjoy: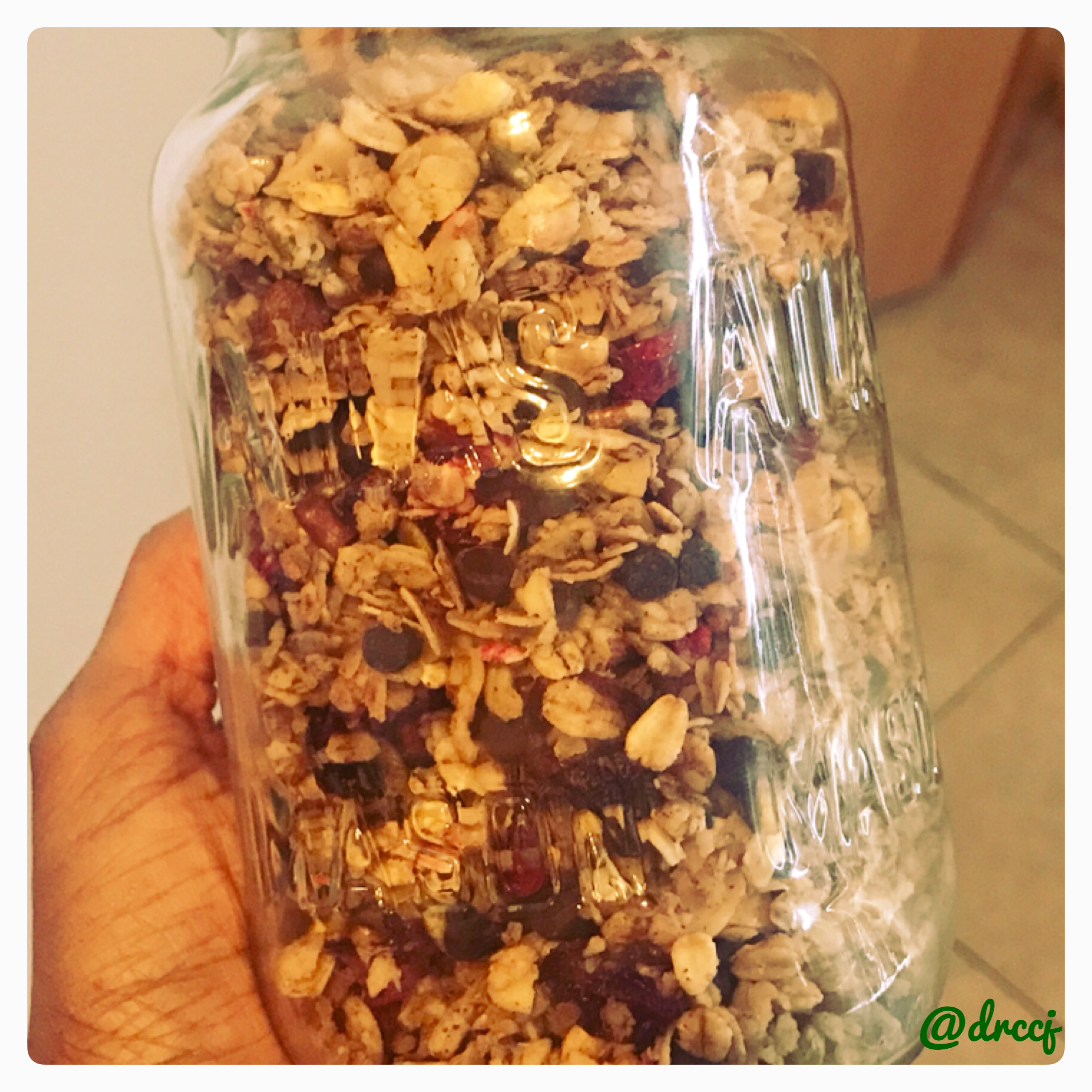 Simple Gluten-Free Granola
Ingredients:
6 cups gluten-free dry rolled/old fashioned oats (quick oats will not work well for granola)
1/2 cup organic raw honey (more or less to adjust sweetness)
1 tablespoon of organic vanilla extract
1 tablespoons of organic coconut oil
1/2 cup raw nuts, chopped
1-2 tablespoons ground cinnamon
Optional Add-ins
½ cup organic coconut flakes or unsweetened dried fruit
½ cup vegan chocolate chips
Instructions
Preheat oven to 300 degrees F and arrange rack in the middle of the oven
Mix rolled oats and nuts
In a separate bowl, whisk together the oil, honey and vanilla extract.
Pour wet mixture over dry (oat and nut) mixture and stir to coat thoroughly.
Add ground cinnamon to the mixture and stir to coat thoroughly. Add more cinnamon if desired.
Spread onto a sprayed baking sheet and bake at 300 degrees F for 30 minutes.
Stir frequently (about every 5 minutes) to ensure even baking. It should be golden brown when it is done.
When done in the oven, let it cool. Then break up any large piece.
Once completely cooled, add coconut flakes or dried fruit and vegan chocolate chips.
Store in an airtight container. Keep refrigerator for 3-4 weeks.
Makes 8 cups, 16  ½ cup servings
Enjoy granola one of three ways:
1. With milk as a cereal
2. As is for a snack
3. Atop your favorite yogurt.
Too much of a good thing no matter how healthy is not good. As with anything food, enjoy granola in moderation. Are there other ways you enjoy granola? Please leave a comment and share how.
Healthy Brain. Healthy Body. Happy Life.
Dr. J!